Welcome to the shop
Grab a coffee, get comfortable, and browse using the links above.
Categories can be found under the Jewellery heading.
All pieces are handmade in Muskoka, Ontario Canada by Laurie Luttrell.
Drop me a note for custom inquiries, using the contact link at the bottom of the page.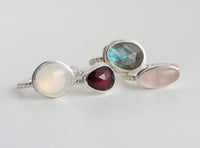 Sterling Silver Freeform Rings
A favourite to work with; each freeform stone has it's own unique shape, size and personality. No two are exactly alike and each stone is chosen carefully and set to highlight it's individual beauty.